How to make a Menu out of your Categories in WordPress
WordPress is a very popular website platform used by many of our customers at BCH. A common request is adding a menu item that quickly pulls all of the posts that are related to a single subject. The easiest way to do this is with WordPress categories.
You can set this up on your own website in four easy steps.
Step one: Log in to your WordPress Dashboard
In case you are not sure where your dashboard is, take your your website URL and add '/wp-admin/' (omitting the single quotes) to the end of the url. For example, if your domain is superawesomedomain.com, your WordPress Dashboard URL would look like this:
http://superawesomedomain.com/wp-admin
Step two: Create a post with your category
(Note: If you already have posts with the category you want to add, you can skip this step.)
Click on (or hover over) 'Posts' in the left-hand sidebar, and then click on 'Add New'. After entering the title of your post, and the body of your post, you will assign or create a category in the box along the right side of the screen.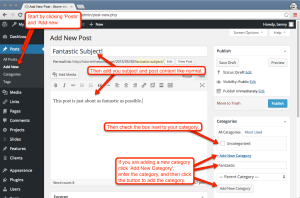 (Note: Don't forget to Publish your Post!)
While you can create categories outside of posts [Click on (or hover over) Posts, and then on 'Categories'], only categories with posts already assigned to them can be added to a menu.
Step three: Create a custom menu
(Note: If you already have a custom menu, you can skip this step.)
In order to add our categories to the menu, we have to create a custom menu. To do this, start by clicking on (or hovering over) Appearance, and then on Menus. Name the menu something you will recognize. In our example we are using 'main-menu-with-categories', and click 'Create Menu'.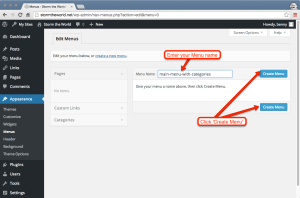 Step four: Add categories to your menu
Now you can add categories to your new menu! Click Categories on the left of your new menu, check the boxes next to the categories that you want to add, and see them appear in your new menu!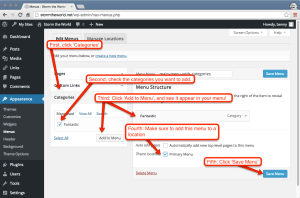 Protip: You can click and drag the menu items around to change the order they appear in the menu, and even make them submenu items.
That's it! Now you can create your own custom menu, and organize all of your posts into the appropriate places automatically!
---