Mondays With Millie: Let's Talk About Produce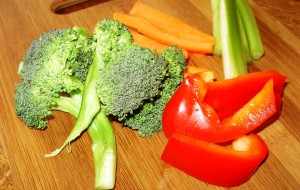 For the last several weeks we have been discussing how to transition to real food in 8 easy steps. We are on the home stretch and up to step 7 which is all about produce.
I believe that many times when people begin thinking about improving their diet, buying organic produce is one of the steps that immediately comes to mind. In fact, probably buying organic anything comes to mind. Even regular grocery stores often have a large selection of organic crackers, cereals and some organic produce.  Organic is a huge buzz word and a huge money maker for manufacturers.
Let's face it, organic costs more than conventional.  How important is it to spend the extra dollars for organic compared to conventional? In my opinion, very important and not very important.   If we are talking produce, I do think it is important. If we are talking about buying organic potato chips— not so important. You would do better to just avoid the potato chips! We'll be talking more about that next week so for this week we are going to just focus on produce. Organic or not.
In my original transition post, I told you how my family isn't able to afford 100% organic produce.  This is probably due to our location. In other areas it may be easier to find and afford organic produce.  What we do is buy the items listed on the Dirty Dozen list in organic. These 12 items have the highest pesticide load. If we can't find/afford these 12 items in organic we will usually avoid buying them.  The same list also offers the Clean 15.  These are the 15 lowest in pesticides.  If I can't find enough organic vegetables for the week at a price that fits in our budget we fill in with the Clean 15.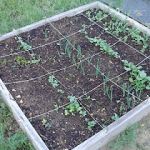 One great way to get organic produce is by joining a CSA. CSA stands for Community Supported Agriculture.  Check out Local Harvest for CSA's in your area.  Another terrific option would be to visit your local farmers market. My farmers market only runs for 6 weeks but I'm already looking forward to mid-July when it opens! You can also find out about farmers market at Local Harvest.   You may also be able to find farmers selling directly from the farm or at roadside stands.  In all of these options, be sure to ask questions of the farmers regarding their practices.  They may not be 'certified organic' but may still use organic practices.  One question I always ask is "do you spray?"   Another great resource for you is your local Weston A. Price Foundation.  The local chapter leader may know about farmers not listed in other places.
With gardening season fast approaching here in Wyoming I have big hopes of growing my own.  We have lived in Wyoming for almost 3 years and I have yet to have a successful garden but am very hopeful that this will be the year!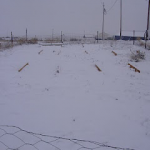 For the month of May (and probably through the growing season) I'll be sharing information not just about my garden/homestead but also a guest post or two to show what others are doing on their property.  I am always amazed to see the amount of produce (and even 'livestock') that can be grown/raised in small areas!
Be sure to follow along at my blog, Real Food for Less Money.  If you have gardening/homestead pictures you would like to share contact me at realfoodforlessmoney (at) gmail (dot) com.
---
---