Monday's with Millie: The #1 Food That Should be in Your Kitchen
The last few weeks we've been talking in detail about how to Transition to Real Food in 8 Easy Steps.  Today I'm going to share with you the #1 Item that Should be in Your Kitchen.  Before I go into that, want to take a minute to focus on the WHY of switching to a real foods diet.
The Standard American Diet, the way most people eat is all most of us know. It is most likely the way we grew up eating. It is comfortable, it is convenient, and it is somewhat easy. Unfortunately, it is making or keeping us sick.
For the past several Wednesdays on my home blog, I've been sharing my thoughts on Nutrition and Physical Degeneration by Dr. Weston A. Price. You can catch up with the Book Club here.
Dr. Price traveled the world in the 1930's and looked at people's diets to determine how those diets affected their dental (and physical) health. Overwhelmingly, the people eating a diet based on the foods local to them were healthier than the same people who were engaged in 'modern' foods (white flour, white sugar, etc.).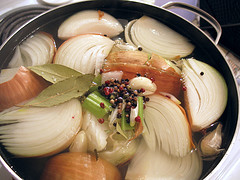 Fast-forward to now. We have a nation whose children are predicted to live a shorter life than previous generations. We have high incidence of autoimmune diseases, autism, cancer, heart disease and general ailments. At some point, maybe we need to realize that what we are doing as far as our health is concerned isn't working and look at doing something else. For my family, we choose to follow the Dietary Guidelines put out by the Weston A. Price foundation (the foundation's mission is to share the teachings of Dr. Price) as best we can within our budget. Our journey toward this goal continues. I truly believe that the #1 simple item to add to your real foods kitchen is #3 from the Transition to Real Food in 8 Easy Steps:  Make Broth.
If you did a quick Google search on bone broth you would find many recipes or methods for making it.  I'm going to share a few different ideas to help you decide which method is best for you. Whatever you choose, you will get all of the wonderful benefits of broth.
Remember,  by incorporating large amounts of broth into the diet, meat can be consumed only once or twice a week with good health being maintained.
Homemade broth acts as a protein sparer allowing the body to more fully utilize the complete proteins that are eaten. For more information on this read Broth is Beautiful. Also, homemade broth made out of 'leftover' bones or inexpensive soup bones is extremely economical.
I'd like to share with you this video from the Weston A. Price Foundation and The Healthy Home Economist. You can see a transcript of this video here if you would rather read than watch.
Bone broth is very simple to make with many different methods for preparing available. I use a crock pot to make my broth (
see this post
), Amanda Rose offers a
Bone Broth Tutorial
on facebook plus also
this great guest post at Cooking Traditional Foods
and Jenny at Nourished Kitchen keeps a
Perpetual Broth
going in her slow cooker.
Once you have your first batch of broth done you might be wondering what to do with it.  Soups and stews are a great way to use up broth (have you downloaded my eBook Design a Dish? It has a great soup/stew method that works with ingredients you have on hand). Sauces and gravies also make great use of broth.  You can cook or rice, pasta and beans in broth for a great nutritional boost. I also have a list of recipes that are broth heavy in order to get that great nutritional boost into my family without serving a bowl of soup every night (especially in the warmer months).
A few broth based dishes we like:  Beef and Bean Enchilada Casserole, Navajo Tacos, and Garbanzo Bean Curry.
What do you think? Do you think that one of these methods for adding bone broth to your kitchen would work for you?  Do you have questions or comments? Let's discuss!.
---
---