Mondays With Millie: Where to Shop?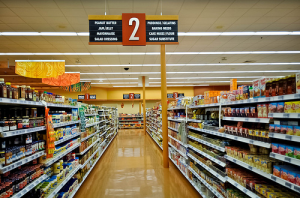 Shopping used to be so easy. Every week I'd go to the big old supermarket and fill my cart up with whatever sounded good and/or was on sale.
The big 5 pound chubs of hamburger were a regular purchase and sometimes at the low price of 99 cents a pound I thought they were a huge score. Chicken hindquarters for 39 cents a pound were also something I coveted. I'd go through the dairy section and pick up 2 or 3 gallons of 1% milk because it was "better" for me than 2% but more palatable than 'blue' skim milk. And no shopping trip was complete without a whirl through the bakery department for a treat or two.
I have to admit, that while this shopping may have been easy it was very detrimental.  I didn't know it at the time but now…
I suspect that you have heard the latest on those 5 pound chubs of burger that I used to buy. They have a not very pleasant term known as Pink Slime. I hate to think about the mass amounts of Pink Slime previously consumed by my family.
Those 39 cent a pound chicken hind quarters? After watching the movie Food, Inc. we stopped purchasing conventionally raised grocery store chicken (I'd suggest that you watch Food, Inc. also but beware you may not be able to eat grocery store chicken any longer).
1% milk has its own issues.  Modern pasteurized milk is devoid of its healthful enzyme content which puts an enormous strain on our body's digestive mechanism.  Plus powdered skim milk is added to 1% and 2% milk. Powdered milk has oxidized cholesterol in it which actually damages our arteries –the same arteries that low fat milk is supposed to protect.
My beloved bakery stops has some obvious issues and several not so obvious.  The obvious, donuts. That is probably enough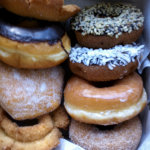 said. 🙂 The not so obvious, those donuts are made with white flour and cooked in rancid fats. Remember Transition to Real Foods step #2? We want to avoid rancid man-made fake fats which is what you will find in almost all commerical establishments.
Knowing all of this, where in the world can we shop now?
Shop your local farmers and ranchers first for eggs, beef, chicken, milk, and other proteins
Co-ops and buying clubs for additional proteins, grains, legumes, produce
Online for coconut oil, palm oil, olive oil, sea food and other miscellaneous items
CSA and/or farmers market for produce and other local items such as honey
Supermarket for missing things– read labels!
In the article Transition to Real Foods in 8 Easy Steps, step #5 is start sourcing better quality proteins.  These better quality proteins are rarely found in your local supermarket.  Your local rancher/farmer is the best source for these items.  Where do you get started finding these rachers and farmers?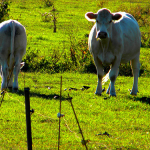 Start with your local Weston A. Price Foundation Chapter. Each chapter leader provides a list of local producers and sources for your area. Check Local Harvest for meat, chickens, milk and even produce.  Realmilk.com is a great place to find a source for quality raw milk.
A co-op or buying club is another great way to find not just quality meats plus also produce, grains and legumes.  A group of us in my town order from Azure Standard on a monthly basis (weather permitting– for us it is a 2 hour drive one way to pick up our order!) for the bulk of our shopping needs.
Online sources are excellent for some things, especially coconut oil and other high quality fats. I order coconut oil in 5 gallon container either from Wilderness Family Naturals or Tropical Traditions (depending on prices at the time I want to order). I also get palm oil or shortening from these places.  I love Chaffin Family Orchards for olive oil.  While I haven't ordered seafood online, I hear great things about Vital Choice.
In your area you might have a great produce CSA and/or farmers market. We wintered in Northern California a few years ago and visited a weekly year around farmers market. It was very fun picking out seasonal produce and figuring out how to turn it into tasty dishes.  I now live in Wyoming and my farmers market only runs from the end of July to the middle of September but those 6 weeks are quite fun. 🙂
We fill in the bits that are missing with the supermarkets– while diligently reading labels! We have a small natural food store in our town (just added last year) where we are able to get many of the missing items we like to have.  For the remaining amounts we go to the regular supermarket.  I can't stress enough the importance of reading labels each time you shop. Even if you have brought a product for years and years check the label before you buy. Ingredients change. If it says something like 'new and improved' be extra cautious.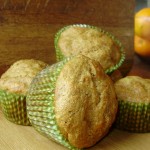 And you know those donuts and bakery goods that I used to pick up? I'm not going to say we never eat store bought bakery goods but it is certainly a rare occurance. Most of the time any sweet treat we enjoy is made in my own kitchen so I know exactly what ingredients are used.  I make a wonderful sourdough apple fritter fried in coconut oil!
Visit me at Real Food for Less Money for recipes and conversation to continue with your real food transition.
Photos: Grocery Store, Donuts, Cows on Pasture, Muffins by me
---
---