All-Natural Cleaning Ingredients for the Sustainable Household
There isn't a single person on this earth who could accuse our founder of being A Picky Homemaker – indeed, there is more than a little dog hair on the carpets and sometimes the kitchen looks like this:
Black Chicken Host uses natural cleaning ingredients as much as humanly possible around our homestead, and we wanted to share our favorite cleaning agents with you.
Natural cleaning agents sometimes take a little more elbow grease than those harsh, toxin-laden commercial products, but the extra work is worth it to us to keep our family and the environment from being exposed to horrible chemicals. For decades, we've been bombarded with TV commercials about disposable this and easy that – it cultures a mindset of "convenience over doing the right thing."
It can take some time to break those habits! Even after we began our homesteading process, we still found ourselves reaching for plastic baggies, paper towels and other disposable items. But with mindfulness, it's possible to free yourself from those patterns. Start simply! Keep multiple dishtowels around the kitchen, so they're always in reach for spills or wipe-ups, and put the paper towels into a cupboard or pantry. That one little change might make it much easier to start using reusable towels.
Most of you already know about our two primary go-to cleaners, baking soda and white vinegar. Used together or separately, these cleaning dynamos take care of everything from dirty counter tops to clogged shower heads. Mixed together as a paste, these two agents create a powerful foaming action (remember grammar school baking soda volcanoes?) that will attack stubborn stains and stuck-on grime. Baking soda mixed with a little water is a great cleaning paste all on its own, too! We also use baking soda in our homemade deodorant, but that's another post.
The water on our little homestead is incredibly hard, leaving residue everywhere. Running vinegar through the coffee maker or tea kettle quickly dissolves the sediment and lets things work smoothly. Vinegar mixed with water is a great floor cleaner, too, and the vinegar smell dissipates almost immediately. You can also add essential oils to the mop bucket to add some extra freshening power to your cleaning efforts.
Baking soda mixed with salt (especially a rougher salt, such as Kosher) has enough grit to really get into stubborn areas, such as white kitchen or bathroom sinks.
Baking soda mixed with some hydrogen peroxide is a powerful whitening agent, and also kills mildew. This is a great brew for using in the bathroom, but be sure not to use it on fabrics, as they will likely bleach. Another great mildew killer is a mixture of lemon juice, baking soda and salt. When she was living in Seattle, our founder, in a tragic feat of forgetfulness, once left her unused pickup truck's window ajar – all winter long! When she opened the truck up in the spring, a nasty surprise awaited her – green and yellow mold and mildew everywhere in the interior. However, after a few gallons of the lemon juice, salt and baking soda mixture soaked on it for a few days (and was literally hosed out with a garden hose,) there was absolutely no trace of the nasty stuff anywhere!
Lemon juice itself is a wonderful, fragrant cleanser on its own, too! Faced with a stinky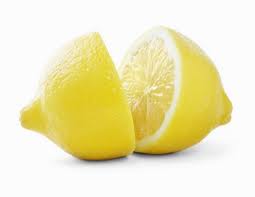 garbage disposal, cut up a lemon into quarters and feed it down the beast (while the blades are running) to freshen things up nicely. Lemon juice is far better for your septic or sewer system than harsh bleaches or other chemicals. Lemon juice mixed with baking soda and water freshens up the kitchen or bathrooms nicely, leaving everything sparkling clean and smelling great.
To keep wood products looking great and to prevent them from cracking, lemon or olive oil is a fabulous alternative to commercial polishes and protectants. With a rag or towel, apply a thin coating of oil to wooden spoons, bowls, cutting boards, furniture or wall hangings and allow to sit overnight before wiping with a clean rag the following day. Your wood will have a deep, healthy glow. This will not work well on thickly-finished wood products, as the oil will not be able to penetrate heavy finishes.
If you're not able to make all of your own cleaning products, don't despair! Too often, we who promote sustainability fall into the trap of "if I'm not doing it all, I'm not doing well enough," and we may be discouraged enough to stop trying. Take baby steps, and gradually work toward a healthier, less toxic lifestyle.
You can even skip making your own cleaners, and just buy more environmentally-friendly ones! Mr. and Mrs. Black Chicken Host do use some commercial products around the house. In fact, in the above photo you can see:
We like to support companies who put ecological preservation ahead of profits, and we don't always have time to make our own (soap-making is a hobby we'd like to try out, but haven't quite found the time for yet.)
Jill at The Prairie Homestead has several fantastic posts about using natural cleaning remedies, too – we highly recommend her site:
She has many, many more tips and ideas on her blog, too!
There are a lot of great homemade cleaning products and methods out there online – if you do a quick Google search for "homemade cleaning products," you'll get a plethora of amazing ideas.
We'd love to hear your ideas, too! Please feel free to comment here, or to drop us a line anytime on our contact form.
---
---