A Clear Benefit of Hosting With Us
Recently, we rescued Pantry Paratus from a sub-optimal relationship with another hosting company.
Check out their response times since that happened: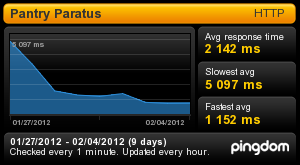 It's pretty clear where we came into the picture, right?
We will never oversell our servers, like most other hosting companies do.
Your Google relevance is partly based on your website's speed – See what our hosting can do for your site!
---
---