Our First Giveaway!
How do you like our new digs? We're pretty excited about it ourselves! 😀
If you like it, too, the theme was created by Chris J. – The Web Guy; he does wonderful work and I recommend him highly. The artwork was drawn by Stephen Nauman, and we love it, love it, love it. These two guys make a wonderful team!
To celebrate the launch of our new website, we're sponsoring a giveaway with two prizes and many ways to enter. Woohoo!
If this is the first you've heard of Black Chicken Host, let us introduce ourselves briefly:
"We know "living simply" is far from "easy living;" committing to a sustainable lifestyle requires a lot more hard work than buying everything from big-box stores. You have many important things to do everyday, and taking care of your website probably isn't at the top of the list. Whether you have cows or goats to milk, firewood to split, gardens to tend, quilts to make or fencing to repair, you don't want to worry about your online presence.
That's why we're here!
Black Chicken Host shares your values: We are committed to sustainability, responsibility and accountability. A percentage of our profits are donated to leading conservation charities! Additionally, we buy carbon offsets from Terrapass to cover 100% of our emissions as part of our commitment to ensuring a healthy global environment."
Ok, ok – you want us to get to the good stuff, right? Right on:
Prize One: 1 gallon of Expeller-Pressed Coconut Oil from Tropical Traditions (a $65 value)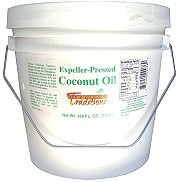 "Tropical Traditions Expeller-Pressed Coconut Oil is a high quality refined coconut oil. This oil is processed the "old" way by what is called "physical refining." The modern way of processing coconut oil is by chemical extraction, using solvent extracts, which produces higher yields and is quicker and less expensive. Tropical Traditions Expeller-Pressed Coconut Oil DOES NOT use solvent extracts. It is made the "old" way by expeller-pressed mechanical extraction. This oil is also NOT hydrogenated, and contains NO trans fatty acids. It is a very good quality food-grade coconut oil."
Prize Two: 1 free domain registration (up to a $49.95 value)

Eligible domains are: .com .net .org .me .us .info .mobi .biz .name .tv .pro 
How can you win? It's easy! Just log into the Rafflecopter widget below and start entering. Thanks to the handy widget, there is no need to leave multiple comments for each entry – you'll only need to leave a comment for the items which request a comment.
There is a metric honkload of ways to win – completing them all takes less than 10 minutes.
 GIVEAWAY HAS EXPIRED – STAY TUNED FOR WINNERS!
In addition to this giveaway, we'll be doing monthly customer-only giveaways, as well as periodic public ones, too – signing up for our Feedburner or following us on Twitter are great ways to keep abreast of these goings-on. We also have a Facebook page and a Google Plus page. We really want to hear your ideas about homesteading, sustainability and how we can serve you.
There are two other giveaways going on today, as well! Be sure to check these out, too:
The fine print:
One person may not win both prizes – the winner of the first prize will have his or her name removed from the drawing for the second prize.
Some entries may be repeated once per day for additional points. These include: Posting about the giveaway on Google+ and Facebook, tweeting about the giveaway on Twitter, commenting on The Prairie Homestead and Real Food for Less Money, and signing up for a Black Chicken Host product or service.
10% off hosting promotional code applies to all shared hosting accounts, available domain registrations and the following types of SSL certificates: RapidSSL, QuickSSL, Comodo Essential Wildcard SSL. Purchase of other services or products yields the same 25 entries, but without the 10% discount.
Entries will be validated.
The coconut oil can only be shipped within the United States, but the domain registration can be won by anyone, anywhere.
Thanks, and good luck everyone!
---
---