Real Food Doesn't Have to Break the Bank– Here's Help!
Something I hear often when the discussion of eating  a diet based on real or whole foods is the high cost involved. In fact, I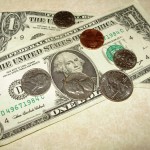 used to think that real food would be waaaay to expensive for my family's modest budget.  But we found with a little creativity that we were able to transition to real foods while remaining on our Standard American Diet (SAD) budget.
A real food diet does not have to break the bank!
At my blog, Real Food for Less Money, I do my best to share money saving tips and ideas to help you in your real food journey. But sometimes, you need something a little more in-depth than a blog post!  Previously in those cases I've done an entire series featuring several post over several weeks time. I've now come to a point where I've started putting all of those posts–plus much more– in one convenient spot via an eBook.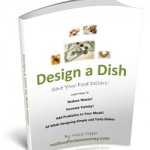 Design a Dish
This is a collection of formulas to help you learn how to save your food dollars. Buying high quality ingredients usually will cost more than their low quality counterparts. BUT by reducing your food waste you may be able to capture considerable savings. I saw an article recently stating that the average American family wastes $40 worth of food each month. $40! That's like 5 meals (minimum) at my house!
Design a Dish is a 34 page eBook that shares simple formulas to help you prepare tasty everyday meals using ingredients that are abundant or inexpensive to you. This is not a recipe book. This is a book of formulas designed help spur your creativity and enable you make the most of your food dollars.
Design a Dish is available for the low cost of $3.99. You can get more information and access to the instant eBook download by clicking here.
Thrifty Food Plan Experience
This book is an in-depth look at the 2 week Thrifty Food Plan Experience that my family did in March of this year.  67 pages of thoughts, tips, and ideas plus a 2 week menu plan, over 40 recipes and links to many more.
This experience was based off of the USDA's food cost guidelines. They offer 4 different food plan options with the Thrifty Plan being the lowest cost (also what SNAP benefits–formerly known as food stamps– are based off).  Real food can definitely be enjoyed on this thrifty budget!
Here is a short excerpt from the eBook:
"This eBook is designed as a handbook and response to the USDA's Recipes and Tips for Healthy, Thrifty Meals.  While I very much appreciate the publication put out by the USDA I believe that an alternative offering real/whole/traditional foods is needed.  The USDA's guidelines have unfortunately left our nation in a state of dismal health. The Standard American Diet is truly SAD.
Dr. Weston A. Price discovered in the 1930's that people following a diet based on their native foods enjoyed superior health, very few dental issues (Dr. Price was a dentist), joyful dispositions and a resistance to disease.  Today's modern societies do not enjoy the characteristics described by Dr. Price.  Instead, we have many ailments that we 'pop a pill' to 'cure'. Unfortunately, popping the pills doesn't usually cure what ails us and often leads to new issues requiring additional pills. When does this vicious cycle end?

One thing that might help end this cycle is by returning to foods in their natural state: by learning many of the lessons Dr. Price discovered all those years ago. The saying "you are what you eat" is more than just a saying.
You may have heard about people following a real or traditional or whole foods diet. You may even have researched it yourself.  Perhaps one thing that has you concerned about this way of eating is the cost involved.  I know when my family first considered switching to real foods that was a concern of ours.  But eating a real food diet made sense to us. Not because of the health benefits (I hadn't researched that aspect of it as much back then) but because we liked the idea of eating food in its true natural state. The way God made it.
Whatever your reasons to change from a Standard American Diet (referred to as SAD from this point on) to a diet based on real/whole/traditional foods (referred to as real foods from this point on) I want to encourage you that it can be done and on a reasonable budget."
Thrifty Food Plan Experience is a free release (for a limited time) when signing up for the Real Food for Less Money newsletter. Click here for more information and to instantly download this free eBook.
What is your favorite tip for saving money on food costs? Please share in the comments.
3D e-book cover design by Starlene http://gapsdietjourney.com/3d-ebook-covers/
---
---