Mondays With Millie: Make Your own Salad Dressing – It's so Easy!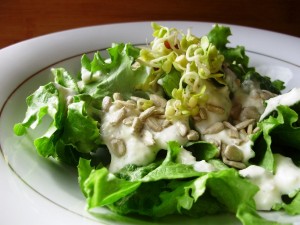 After a few weeks off, today I want to return to breaking down the items in the post Transition to Real Food in 8 Easy Steps.
Step 6 is a very easy step with huge impact. Make Your own Salad Dressing.
Salad season is rapidly approaching here in Wyoming. Depending on your location you may already be enjoying  fresh greens.  By making your own salad dressing with fresh and well chosen ingredients you can add not only wonderful flavor but great nutrition to those greens.
One of the quickest and easiest ways to improve your diet is stop buying commercially prepared salad dressing. These dressings are made with awful ingredients that you do not want to be putting into your body. What kind of 'awful ingredients' you ask? For starters, they are made with low quality oils (often soy and/or canola), preservatives, high fructose corn syrup, MSG and a whole host of possible additives. Ditching store bought dressings is especially easy since it only takes a couple of minutes to mix up your own homemade salad dressing with your choice of (healthy) ingredients.
By choosing your salad dressing ingredients instead of just opening a bottle you can determine what is topping those greens. You might think that making your own dressing will take too much time, effort or money but the opposite is true. I can put together a simple dressing in about a minute for very little money.
One of our favorites salad dressings is also the easiest.  I mix together a great tasting olive oil with juice from 1/2 of a lemon until well blended (I use a fork for mixing). Then season with salt and pepper and mix with my fresh greens. Simple and delicious! My children often ask for this salad dressing.
Another dressing we really like is a homemade Blue Cheese. You can read more about that here.
In my eBook, Design a Dish, I have a section on creating your own salad dressings out of ingredients that you keep on hand. I'm going to give you a 'sneak peek' into this ebook by sharing with you my salad dressing formula.
Basic Salad Dressing Method
Base- enough to fill your container no more than half way
Seasoning- to taste
Additions (optional) 1 tablespoon on up
Flavorings/Thinners (optional) – To thin the dressing or add a new/different flavor, add a little at a time until desired consistency/flavor is reached.
Put base in chosen container; add seasoning, additions, flavorings. Mix well. Taste and adjust as needed.
So what kinds of ingredients might you use to put this simple and tasty salad dressing together? Read on…
Ingredients:

Base:
Start with any or all of the following.  I like to mix at least two together but have had great results with more than two when I only have a smidge of this or that. These are suggestions on what I have tried, you might think of other things.  I like to make my Salad Dressings in pint size jars. I usually fill that jar about half full with my base(s) and then build from there. That way I have plenty of room for mixing and adding. You could start with a larger or smaller jar/container; just keep in mind your additions and needing to stir.  Note: When using olive oil, mix as you add the oil for better blending. I usually use a fork but a small whisk would be great. This will help it all emulsify better. If adding lemon juice also in addition to olive oil (for the Creamy Vinaigrette), I've found it blends best to mix in the lemon juice prior to the olive oil.
Mayonnaise (homemade, lacto-fermented is best)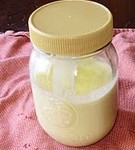 Buttermilk
Kefir
Yogurt
Clabber
Clabber Cheese
Kefir Cheese
Yogurt Cheese
Soft Cheese
Cream Cheese
Sour Cream
Sweet Cream (Raw)
Ketchup (lacto-fermented or at least HFCS free)
Olive Oil (see note)
Barbeque Sauce, Teriyaki Sauce or other similar item
Seasoning/Spices/Herbs: I like to think about the final flavor I want. Sometimes I might be trying to go for a certain 'theme'. Like maybe a Taco Salad so I'll use taco flavorings and/or add salsa (see Additions). At the very least, I add sea salt. Other seasonings we like; dill, powdered or minced garlic, basil, mint, cumin, chili powder, cayenne pepper, black pepper, parsley (fresh or dried), mustard powder, etc. Sometimes I'll add a little bit of Sucanat to my dressing. Often times, this will be after I put everything else in it and I've tasted it. If you taste your dressing and you think "hmmm. Something is missing." You might add ½ to 1 teaspoon of Sucanat or other sweetener. And maybe another sprinkling of salt. Those are the two things I find help my dressings the most.
Additions: I don't always do an addition but it makes a nice way to change up the flavors. Add anywhere from 1 tablespoon on up. I've had good results going as high as equal amounts Addition to Base. Especially when using salsa.  Salsa combined with the base makes a wonderful dressing for a Taco Salad. If I'm using a 'runny' salsa, I drain it a bit first (my lacto-fermented salsa can get a little runny).  Other excellent additions include minced onion, finely chopped green onions, finely chopped sweet pepper, finely chopped hot pepper, grated cucumber, pickle relish (or probably any vegetable relish), shredded parmesan cheese or other hard cheese, crumbled blue cheese, poppy seed, honey, prepared mustard such as Dijon or other flavor.
Flavorings/Thinners: Sometimes my dressing is a little bit too thick. Especially if I've started with a thicker base such as clabber cheese, then I'll add in a thinner. Sometimes these double as a flavor addition, keep that in mind when choosing your thinner. For zero to very little flavor use milk, cream or even water. Other thinners could be lemon juice, vinegar (any flavor), kombucha, the juice from a lacto-fermented pickle, kraut or salsa.
Tasty Combinations:
Creamy Vinaigrette: Yogurt or buttermilk, lemon juice, olive oil, sea salt and pepper. Simple and delicious. See the Note in the Base section on using Olive Oil.
Garlic/Dill:  Mayonnaise and buttermilk or yogurt, ample amount of powdered garlic, dill weed,  sea salt, dash of Sucanat, apple cider vinegar.
Once you start creating your own salad dressings and discover all of the wonderful combinations, you will be hooked! Plus by choosing your ingredients you will know exactly what you are consuming and will be well on your way in your transition to real food journey!
Like this formula for Salad Dressing? You will love my eBook, Design a Dish. It offers many more formulas to help you stretch your food dollars by using items that are inexpensive or abundant to you.
Photos by Millie
---
---