Giveaway – One Gallon Tropical Traditions Coconut Oil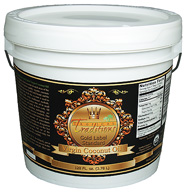 Hey there! Want to win a gallon of Tropical Traditions Gold Label Organic Virgin Coconut Oil?
Well, sure you do!
And you can, too – saunter over to Homestead Geek and enter the giveaway there.
Additionally, Black Chicken Host customers are eligible to win a 32-ounce jar of the same coconut oil. Check your Black Chicken Host Newsletter for more details!
---
---