Some free graphical goodies from your friendly Black Chicken Host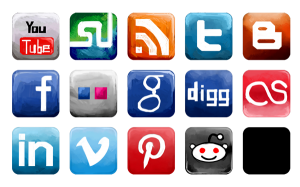 We've been working on creating a library of custom graphical elements you won't find anywhere else for you to use on your HH powered sites. Stephen Nauman has just turned in this set of social media icons, and I decided to release them straight to you to see what you think.
There are three sets included in the package; the color one you see here, a greyscale version, and a negative (inverted) version. They're each a single .png file with a transparent background, so you can lift any icon individually using a photo editing software (Photoshop, Gimp, etc.). These programs can also change the color saturation, so if you'd like to tone them down, a la Homestead Geek, you are free to do so. These icons are presented royalty free under a Creative Commons license (info at bottom).
Stephen's the newest member of our design and development team, and we expect big things from him, so post your feedback here and let him know how he's doing!
Creative Commons license:

HomesteadHost Social Media Icon Set by Stephen Nauman is licensed under a Creative Commons Attribution-NonCommercial 3.0 Unported License.


---
---