Mondays With Millie: Kitchen Beginnings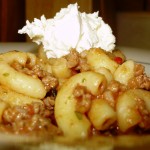 For the past several weeks we've been talking about how to Transition to Real Food in 8 Easy Steps.  We've talked about ditching cold cereal and what to have instead. We've talked about changing our fats from man-made fats to traditional fats.  Last week we learned several methods to make broth, which is my #1 kitchen staple.
This week we are going to take it a step further and discuss the importance of learning to cook.  You may already be very proficient in the kitchen and this post won't apply to you.  For myself, when I first started on this real food journey I had taken several years off from cooking. Yep, pretty much completely off.  I had take a job that had me out of the house more than I was in it.  During those 6 or 7 years our food was mainly dine out, take out and frozen.
When my husband and I realized we needed to make a change, I had to rediscover my way around the kitchen.  One thing to think about in that kind of situation is your kitchen items. Once again, I'm going to share a video from the Weston A. Price Foundation. This video discusses some basic equipment you may want in your kitchen and some things you should avoid. If you prefer to read rather than watch you can find the transcript here.
As you can see from the video, it doesn't have to cost a fortune to outfit your kitchen. I personally have very basic items in my kitchen and still prepare almost everything we eat from scratch.
When you are just starting on a real food journey, don't feel that you need to cook everything from scratch. Believe me, I didn't get to this point overnight! I chose a few easy things that I knew I could make and built from there. I knew I could make simple things such as a hamburger dish I grew up with that my mama referred to as Goulash.  We ate alot of Goulash back then!
Slowly I started adding in more items just by following recipes online and in cook books.   I now know of several great resources that I didn't know of then. Lea from Nourishing Treasures has a Real Food 101 section with links to many great recipes for creating  real/whole/traditional dishes.  For something more in-depth, be sure to check out Wardeh from GNOWFGLINS Fundamentals and Fundamental II eCourses.
Worried about how much time you have to spend in the kitchen? I have several posts on my blog from when I worked full time outside the home plus a one week experience that I recorded in detail.  By devoting a few hours on a day you are home and enlisting the help of a slow cooker you can have a homemade meal most every night.
Knowing exactly what ingredients are going into your meals will go a long ways toward improving your health. You can do this!
 What is your biggest frustration in the kitchen?
---
---