Analytics Boot Camp – Day Three: Standard Reporting, Part Two
Alrighty, Campers!
We're just going to hit two quick bits tonight, before it gets too late to learn anything new.
These two topics, Custom Variables and User Defined, are considered advanced topics, and we're not going to go into them in-depth here. We did want to provide some resources, however, for readers interested in customizing their Analytics code and reports. up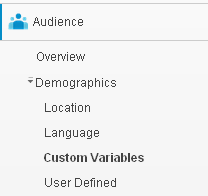 Let's cruise to our Google Analytics (GA) Admin Dashboard, click on Standard Reporting, Audience, and lastly, Custom Variables.
Google describes this area as follows: "This report provides information about visitor behavior (Site Usage) and impact on revenue (Ecommerce) distributed bycustom variables you have added to your tracking code."
Well and good – but how do we do that?
We clicked on the "Learn More" link in their help document, and landed on this page, which is a bit more helpful.
You may modify your Analytics tracking code to include special information, and these will show up on your Custom Variables page.  Setting these variables up is beyond the scope of this boot camp; however, you can read how to do it on Google's Custom Variables support page and on the Analytics Talk page, "Mastering Google Analytics Custom Variables." The author of the latter page has an O'Reilly book on Google Analytics, so we feel he's a pretty good authority on the matter.
Next, let's look at the User Defined area, which is the menu option immediately below Custom Variables.
Like Custom Variables, this is an area you can customize yourself. From Google: "This report provides information about visitor behavior (Site Usage) and impact on revenue (Ecommerce) distributed bycustom visitor segments you have defined in your tracking code. Custom visitor segments let you capture information from visitor input (such as selecting a check box to identify an income level)."
Also like the Custom Variables, setting User Defined reports also required modifying your GA code. You can read about how to do that here:
At this time, we are not aware of any WordPress plugins which make advanced customization truly easy, but we'll keep looking and keep you posted!
Don't be discouraged if your eyes glaze over reading these advanced topics – as you become more conversant with GA, you might want to explore them further; however, plenty of GA users go merrily about their lives without even knowing about these extra features, and somehow, they still survive! Use them or don't at your pleasure – we won't judge.
That's all for tonight – camp dismissed!
We'll catch you tomorrow for more in-depth adventures on the Standard Reporting tab! Thanks for reading.
---
---