Internet Confessional & A New Love
Dear Internet –
I know it's been awhile since I've written; sorry about that. Life gets so busy from time to time, and I hope you'll forgive me.
There's this addiction I wrestle with: Peanut Butter. Specifically, sweetened peanut butter. Give me a jar of Peter Pan and a spoon, and I'll probably stand there eating it until I throw up. I realize it's horrible and full of things which are bad for me. Sometimes, I just don't care – I know, that's terrible. I'm working on it!
Yesterday, I was in the peanut butter section of our local healthy foods store, agonizing over whether to get the less-tasty-but-more-healthy freshly-ground stuff, or to cave and get something sweetened. Then, I saw something I'd never noticed before: Earth Balance Coconut and Peanut Spread. "What the heck," I thought; "I like coconut oil, I like peanut butter – what's to lose?"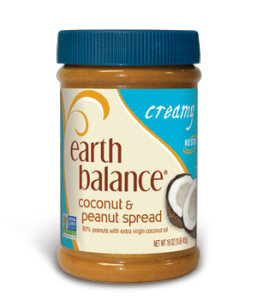 It hadn't been in the house five minutes when I was at it with a spoon. It is marvelous. Creamy, smooth, a bit airier than regular peanut butter, with a delicious, very mild, coconut oil flavor wayyyy down in there.
I was an instant fan, but managed to put the spoon down after two three a few bites.
While it's still high in fat (but healthy fats!) it is sweetened with agave, and has a much healthier ingredient list than your average jar of Jif: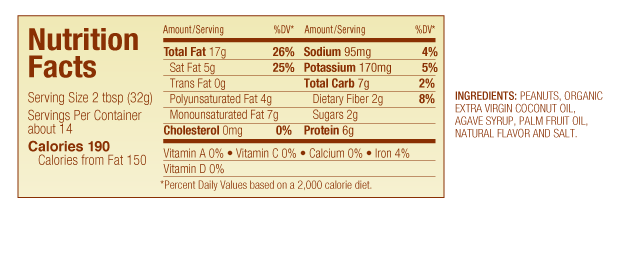 Jif's ingredients: "MADE FROM ROASTED PEANUTS AND SUGAR, CONTAINS 2% OR LESS OF: MOLASSES, FULLY HYDROGENATED VEGETABLE OILS (RAPESEED AND SOYBEAN), MONO AND DIGLYCERIDES, SALT."
Not the worst label ever, but hydrogenated oils, mono- and diglyericdes of unknown origin? No thanks.
To be fair, palm oil (listed as palm fruit oil in the Earth Balance spread) is a huge sustainability problem. However, Earth Balance ensures they're using sustainable oils sourced only from responsible growers.
This stuff is great on toast, on bananas, in smoothies – and on a spoon. I definitely recommend it if you have a sweet peanut butter tooth, but are concerned about what else is in your nut butter.
Eat up!
---
---